About Kate
Welcome and thank you for taking the time to visit Kate Endle Illustration and Fine Art.
I grew up in Northeast Ohio and earned my bachelor's degree in illustration from the Columbus College of Art and Design in Columbus, Ohio. I've been illustrating professionally for more than 25 years, and I work in a variety of styles. I'm influenced by Japanese and Inuit folk art, vintage illustration, and funky thrift store finds. My work can be found in children's books, album covers, magnets, and a wide array of home decor and paper products. I'm also an artisan vendor at the historic Pike Place Market in Downtown Seattle.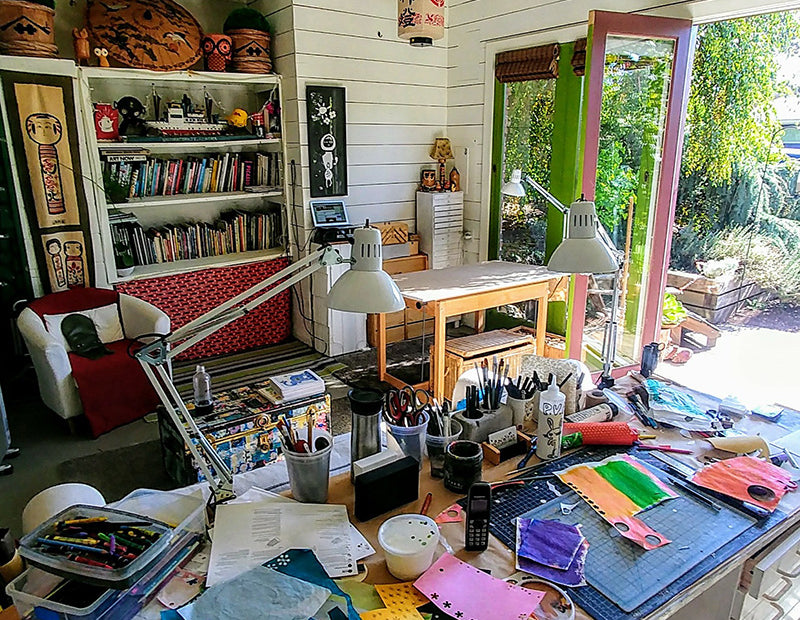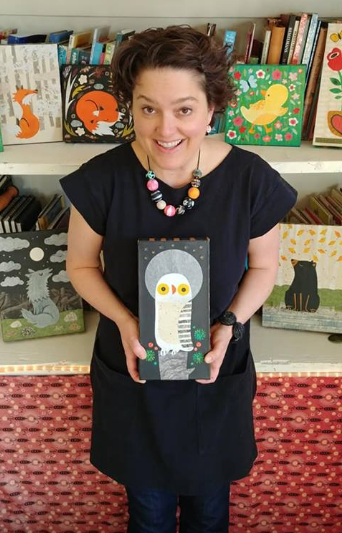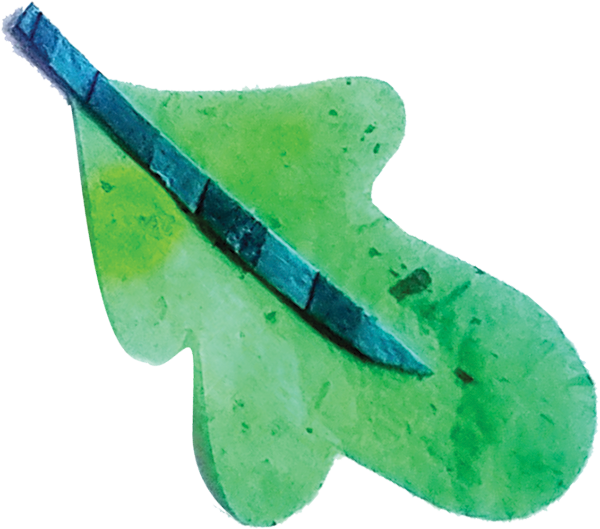 I create my original collages with hand-painted and printed papers, along with decorative papers from Japan and India. Each piece is cut, glued, and embellished by hand. When I pull out my painter's palette, I use Holbein Acryla gouache on black paper or Holbein Dua Aqua Oil on black-painted burlap. Once my artwork is complete, I scan or photograph the original and upload it onto my computer. Then, I generate art prints in my studio. They're printed on Epson Velvet Fine Art Paper using archival inks guaranteed to last up to 250 years—so the art won't fade, and the paper won't brittle or yellow.
In addition to creating fine art, licensing, and freelancing, I also collaborate on books and music for children with my husband, Chris Ballew—also known as children's musician Caspar Babypants and lead singer for the twice Grammy-nominated rock band The Presidents of the United States of America. We live in the Great Pacific Northwest, where we're endlessly inspired by the always-generous art muse, Mother Nature. Whether you've come to my site to buy art or hire me for licensing or freelance work, my main desire is that you become inspired by my art! Thanks again for visiting, and I look forward to hearing from you!
My clients include:
American Greetings, Cartwheel Books, Caspar Babypants, Charlesbridge Publishing, Chihuly Museum of Garden and Glass, Frontier Airlines, Innovative Kids, Hallmark, iPOP,  Kids Can Press, Klutz, Land of Nod, Madison Park Greetings, Modern-twist,  National Wildlife Federation, PCC, Papyrus, Perfection Learning, Sasquatch Books, Scholatic, Sesame Street Workshop, Sellers Publishing, Utne Reader, and Washington Mutual, Yoto. 
Shop my work